Tvr® OPT Japan 10th Anniversary (2013-2023)
A Decade of Visionary Craftsmanship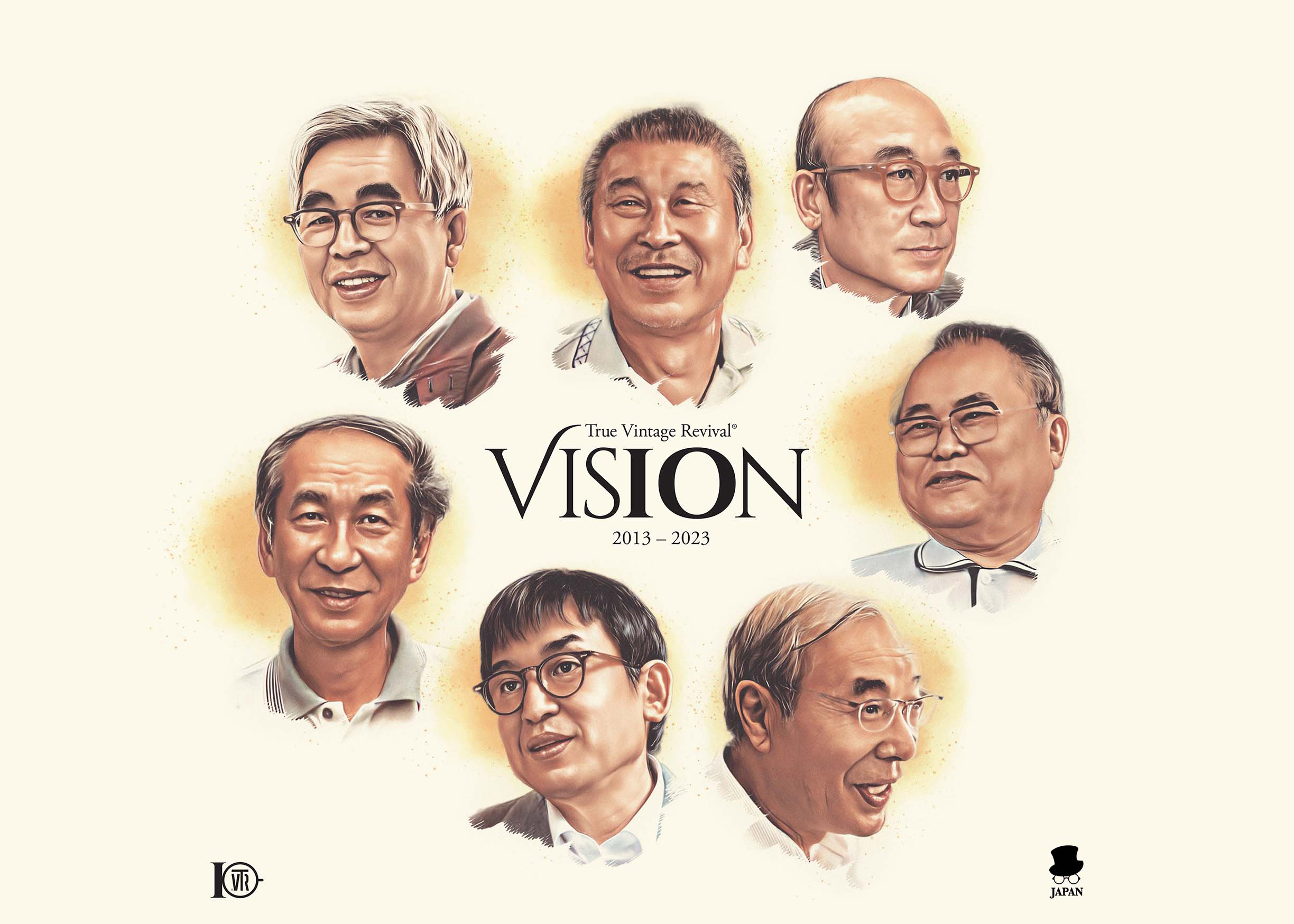 Sabae, Japan — TVR® OPT will be celebrating its 10th Anniversary in 2023. The Japanese label attributes its booming success to all of its distributors, partners, customers and TVR® OPT stores across the world. And TVR® OPT will commemorate the glorious decade with a new brand campaign that is set to keep everyone excited.
The 10th Anniversary will see the theme of VISION for the future of handmade vintage eyeglasses. VISION is the very reason TVR® OPT continues to keep looking forward in producing as many unique vintage eyeglasses as possible. The word 'VISION'also culminates the power of seeing, taking over the new campaign image with number '10' to represent the years TVR® OPT Japan has taken to grow leaps and bounds.
For the uninitiated, the work that goes into handmade glasses is a lifetime commitment. It cannot be replaced with machines, the craftsmen have their own expertise and an unparalleled eye for detail, and each piece of eyeglasses is unique as every batch of production is different when it comes to colours, materials and detailing.
While TVR® OPT was initially founded only for the Japanese market, especially with the brand's direction going niche and focusing on craftsmanship, rare materials and small batch production, TVR® OPT eyewear started to receive acknowledgement from foreign customers and tourists who purchased TVR® OPT eyeglasses from its Japan stores. The brand began to experience global presence through a host of international clienteles ranging from celebrities, creatives, fashion followers and tastemakers. Today, TVR® OPT has more than 250 stores all around the world.
However, truth be told, TVR® OPT is still unable to meet the full demand of the optical industry as the dedicated artisans are still using the same method of production since day one. Despite the many stores and demands from all over the globe, TVR® OPT continues to observe a small-batch approach to eyewear-making — with each production and collection taking up between eight to twelve months. Once the batch is sold out, there's a wait of a year for the next production to be ready. The past years have been amazing, from just four collections in 2013 to 32 collections available today. The team works arduously to keep improving and experimenting with different materials and measurements — from TVR® OPT continues to inspire vintage eyewear collectors and enthusiasts with an extensive range of collections that are available in selected cities across the globe. For 2020, the brand has released a limited edition — the TVR® OPT Exclusive Bespoke Limited Edition in specific cities like Bangkok, Hong Kong, Taipei, Seoul, Beijing, Shanghai and Paris, with eight exclusive colours and 35 pieces available each.
The attention to detail continues with TVR® OPT being one of the few optical brands focusing on the temple core design. The brand's first core design was first created in Spring 2018. The standouts include Yamada Mitsukazu's favourite metal core design featuring a tail pattern of a Japanese Arrow (featured in the YM Collection), the Arabesque metal detailing with Kanagawa-oki nami ura pattern (The Great Wave of Kanagawa), as well as the Japanese hand-carved metal core design known traditionally as the 'Tebori'technique of Japanese engraving. 'Te' means 'hand' while 'bori' translates 'carving'. More recently, TVR®OPT releases the Baroque Style 17th Century engraving metal core in 2021 for a subtle yet extravagant detailing for its latest range of eyewear. Material Matters As a continuous pursuit to discovering new and rare materials for eyeglasses making, TVR® OPT Japan is dedicated in unearthing vintage materials and colours from its warehouse since the early days. This includes the super rare 8mm acetate material kept in its warehouse since 1993, and with this launched the SERIES 1 collection in Summer 2021 and TVR®504 in Spring 2022. Limited to only 99 pieces for each colour (Black Clear and Brown Clear), the entire collection was sold out within a week of its launch. On top of that, the flagship TVR® OPT The Infinity 8 Collection, launched in conjunction with the brand's 8th Anniversary, also employs another rare material — 8mm Japanese Zylonite Acetate. TVR® OPT always source for old and leftover materials. When factories close down in Sabae, Japan, the team will ensure that those materials are kept for good use.
4mm to 8mm with Zylonite to Celluloid, including a special edition like the TVR®512 using 14K Gold. The constant is the Sun Platinum Metal (SPM) that has been used across all the collections since the very start. The Backbone of TVR® OPT Japan The company in Sabae, Japan started with just four people who harbour boundless passion for eyeglasses — Kunikado Ryushima, Sawada Yaemon, Eizo Onami and Yamada Mitsukazu. They, too, have lots of experience in handmade eyeglasses and some span generations. Their mission? To produce superior quality eyewear that embodies the true spirit of Japanese craftsmanship — uncompromised, purely handmade frames without modern tech or machines that are first-rate and nothing less. Despite being in his late 70s, Yamada Mitsukazu remains tireless in his pursuit of making impeccable eye frames. Such is his dedication to the craft that it recent caught the attention of NHK Japan TV (Winter 2018), Japan's well respected and only national broadcaster, that documented his 60-year journey as a master in eyewear craftsmanship.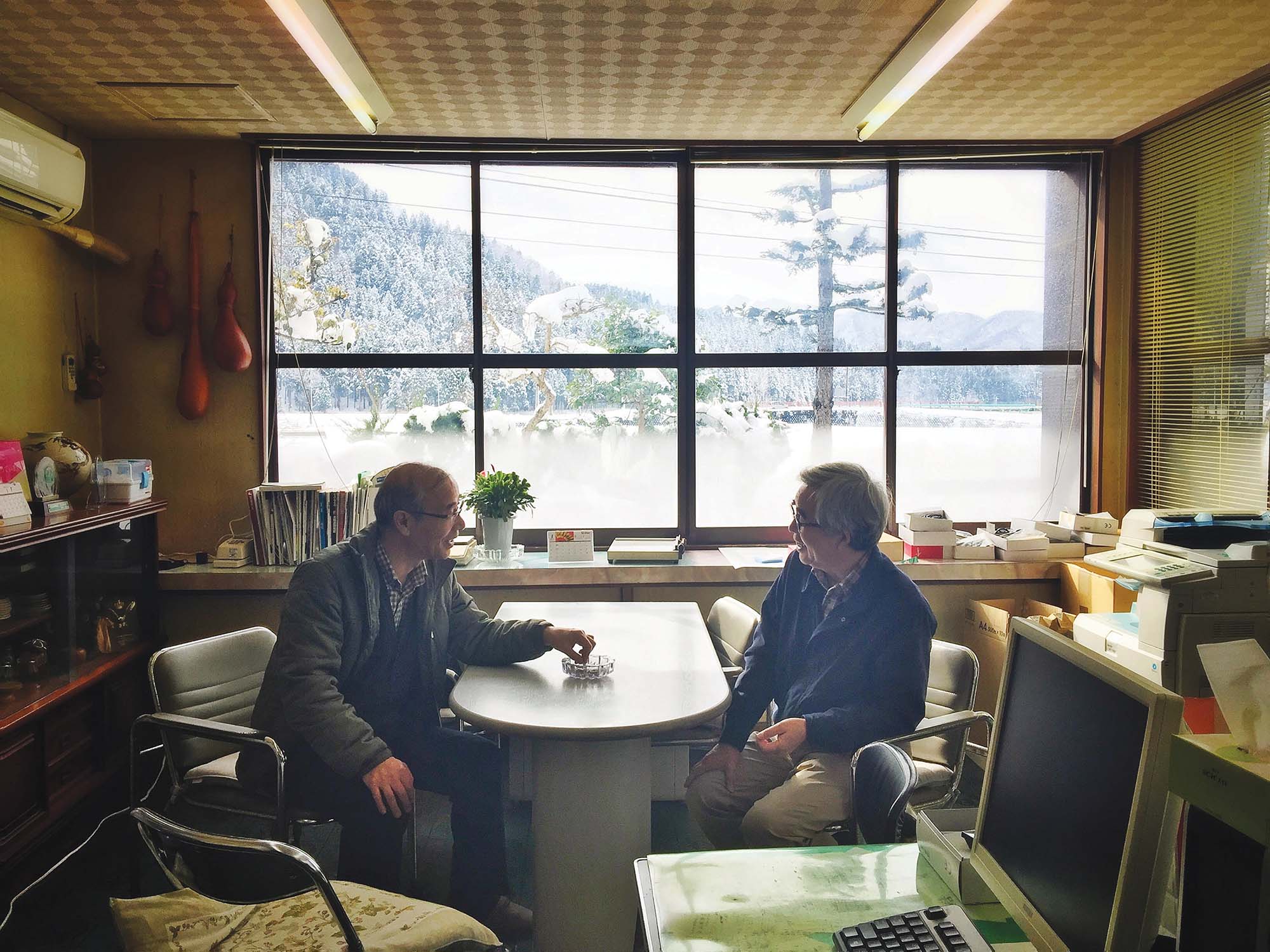 A Collection of Collectives Over the years, TVR® OPT has been producing some of the greatest collections the world has ever seen including TVR®504 and TVR®505 Woody Carved Limited Edition (Spring 2014); Yamada Mitsukazu Collection (Spring 2015); TVR® x YM-001 to TVR® x YM-028, until Yamada Mitsukazu retired (2019), and more. Yamada Mitsukazu is also the first brand in the world to feature a full collection made entirely in Sun Platinum Metal (SPM). Another milestone for TVR® OPT is the collaboration between OBJ x TVR® x Rainmaker in Spring 2019. This is based on the JFK Saratoga eyeglasses design, and was featured in Vogue US (2019) as part of a runway show for Rainmaker Spring 2022 collection. Sabae, Japan — TVR® OPT will be celebrating its 10th Anniversary in 2023. The Japanese label attributes its booming success to all of its distributors, partners, customers and TVR® OPT stores across the world. And TVR® OPT will commemorate the glorious decade with a new brand campaign that is set to keep everyone excited. OPT believes that these old materials are valuable, and when made into eyeglasses, each has its own story to tell — from material to craftsmanship. The uniqueness of handmade eyeglasses also lies in its imperfection. This is unique with each piece being made with soul, as the brand's motto goes: "A Piece of Soul into A Pair of Eyewear". With every creation, a piece of the craftsman lives within the eyeglasses — elevating the handmade spirit of each TVR® OPT eyepiece. Revival = Remake
Most recently, TVR® OPT Japan also introduces a new ethos — Revival = Remake. TVR® OPT will remake or recreate new details based on the original vintage eyeglasses. With this, TVR® OPT will continue creating more iconic designs based on archives while improving the unique features of vintage eyeglass to make it better in modern contexts. One of the most interesting collections ever produced is the TVR®529 American Classic Vintage — an iconic shape inspired by American playwright and writer Arthur Miller who famously wore this eye frame in the 1960s. Miller, who was also Marilyn Monroe's husband, made the strong and bold masculine shape popular, known especially for its profound single brow bar. TVR® OPT added an angled 45-degree minute detail to soften the intimidating front while giving the silhouette a pleasant look.
The most recent collections — TVR®531 and TVR®532 — are both combined from two to three archival models from the 1940s to 1960s period. Combining functionality and style in a boldly artistic expression, TVR® OPT draws inspiration from two pairs of French-Arnel pieces from the 1940s and 1950s, first discovered in the Sabae factory. The idea sparked — and the team has decided to bring forth details from both shapes into one beautiful collection.
In 2023, there will be more exciting collections, with new designs, new details and a more upgrade repertoire to boot. Stay tuned for more collaborations and limited edition pieces in the lineup, made especially for TVR® OPT Japan 10th Anniversary — VISION 10.