Celebrating its 10th anniversary in 2023, TVR®OPT continues to uphold its focus on the preservation and revival of traditional spectacle-making in Japan, creating an eyewear collection that is already renowned around the globe; via a translator, we asked Sawada Yaemon (Mastercraftsman) and Eizo Onami (Head of Production / President), at TVR® OPT Japan about their work and dedication to the traditions of their craft – pictured above, Onami Eizo and Sawada Yaemon at the TVR®OPT factory in Japan
How long have you been making spectacles? Please tell us what got you started and why it is a skill that should be carefully preserved? Is it part of your family tradition? Sawada Yaemon: I have been making eyeglasses all my life, dedicating almost sixty years to this craft. The know-how has been passed down through generations, from my grandfather to my father and now, me. It has always been a family business, started by my grandparents. We used to make eyeglasses for Japanese and American companies in the 1950s.
Throughout the years, I've only known how to use tools and machinery from the 50s; the same methods are still practised up to this day. I'm not good with new technology and I think it's always good to preserve this generational family tradition of making eyeglasses by hand. I believe in every eyeglass we make lies the soul and touch of the craftsman. Using this traditional method, we ensure the unrivalled quality and sophistication of our handmade eyewear. We've never changed anything, just making small changes in eyewear designs for our creations to be current and loved by everyone.
In Japan, it was impossible to predict the future of the eyeglasses industry. This business has had its ups and downs, especially since many companies moved their production to other countries in the 1990s. We do what we can do to preserve our generational craftsmanship, passing it down to the next generations despite having to go against advanced technology and modernisation.
Eizo Onami: The idea is to preserve our Japanese craftsmanship in eyewear making — this is the very reason why we started TVR®OPT Japan some ten years ago. We wanted to keep this industry going as very few factories in Japan have been able to sustain the business up to today. And we are very much aware that the artistry in handmade eyewear-making is fast-fading. Many factories are closed and craftsmen get older, or retired due to old age. The fact is, the younger generation isn't taking up this work and isn't interested in craftsmanship.
What we have employed before and today are the same — using old machinery. We can only make small batches of eyeglasses every year, significantly inferior to machine-made ones. Because we are 'hand-made', we have limitations and our production will not be able to cope with larger numbers. But know that what we are maintaining and preserving are the integrity and the authenticity of eyewear history that cannot be replicated elsewhere. This is our pride and joy.
TVR® OPT (True Vintage Revival Optical) was created based on true size, vintage design and the revival of old classics, with a tagline of "The Art of Recreating Classic Eyewear". OPT means glasses company in Japan. TVR® OPT uses only time-tested methods to create "revivals" of classic frames. At TVR® OPT, we believe that retro is not merely vintage objects, but a vision of the past and present embodied in one's sense of fashion, attitude and being. With that ethos, we started TVR® OPT in 2013 to continue the work of the craftsmen here in Sabae, and to share our pride and joy to people all over the world.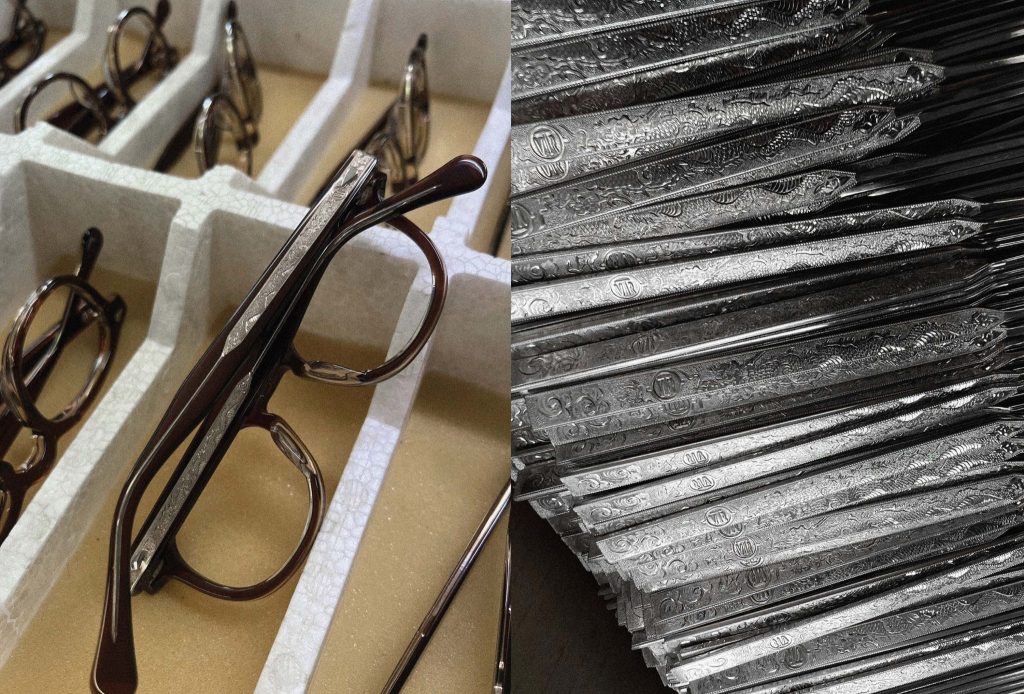 2. Today you are working on the TVR® OPT frames, putting your skill and dedication into frames that are timeless, quality- driven, and technically very precise. What are the biggest challenges? How long does one frame take and how many steps are there? What is your favourite part of the work?
Eizo Onami: TVR® OPT is still a young brand compared with other Japanese brands in the market, most of the other brands are over 100 years old. The biggest challenge is to keep improving every detail and craftsmanship. Everyday there are more and more new brands in the market. But I think it's good competition, and it keeps us moving stronger forward while thinking of ways to improve and to constantly innovate with new ideas each time we launch a new collection.
We only use time-tested methods to create 'revivals' of classics and vintage frames. These are limited pieces produced by the hands of our artisans and TVR® OPT promises a delivery of true vintage pieces that withstand the test of time. At the same time, our team constantly finds ways to keep our designs current while improving every detail on the eyeglasses.
Sawada Yaemon: One of the biggest challenges is maintaining true craftsmanship. We are not considering relocating or even replacing labour with machines. We started with handmade craftsmanship and continue to do that up to this day, and the old master craftsmen still insist on keeping the whole handmade process true to their craft and artistry. TVR® OPT has been fortunate to be able to work with them and continue passing on this craftsmanship from their hands to the final product.
Many people wouldn't have known that each eyeglass will take between 8 to 12 months to produce and there are as many as 200 manual processes involved in making an optical frame. Some collections like TVR® SERIES take longer, between 15 to 20 months due to its complex nature. It gives me great joy to see that my work and craftsmanship have been loved and worn by our beloved customers, making every minute spent worthwhile.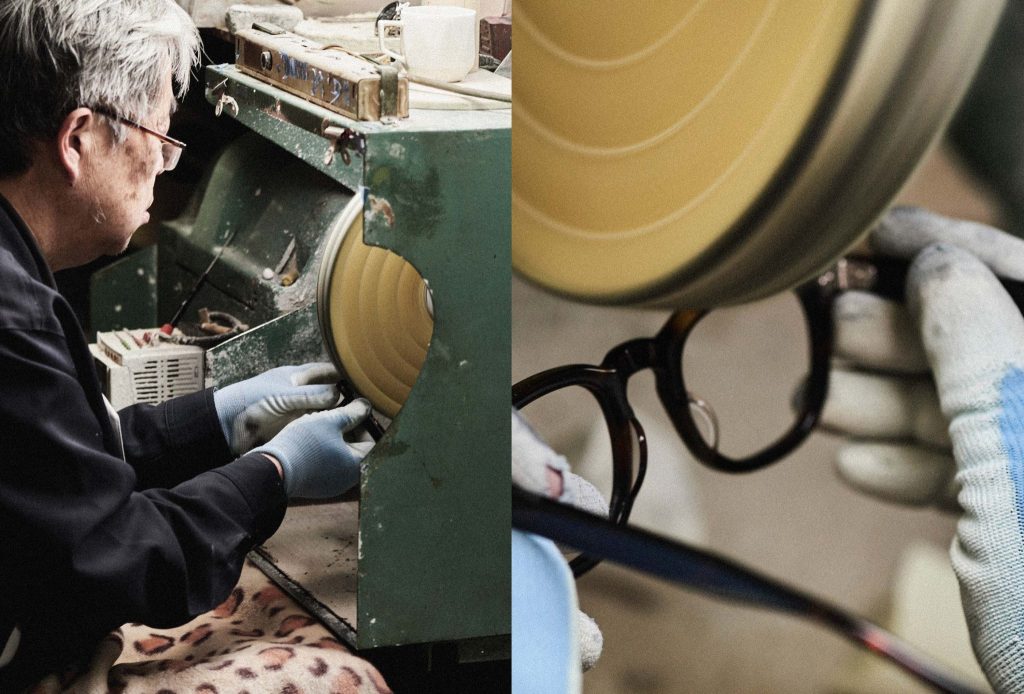 3. You are working out of Fukui? Tell us about this incredible eyewear destination and how the eyewear skills of the region are being preserved and passed down to younger generations?
Eizo Onami: Yes, you're right. Over 90% of eyewear frames sold in Japan come from Sabae, Fukui Prefecture, Japan. Sabae has always been known for inventing the concept of nose pads and developing the use of titanium frames in the 1980s. Paired with a rich history in eyewear production and eye frame manufacturing, Sabae represents the history of handmade eyewear in Japan itself.
For those who didn't know, the art of eyewear making started during the Meiji era when this technology was first introduced in Sabae. The city is also known as the 'City of Glasses', and the people here have developed their own style and artistry throughout the years. The industry began as an off-season side job for agricultural workers, but the demand grew exponentially after World War I. In the late 1930s, approximately 1.5 million celluloid eyeglasses were produced annually in Sabae — the same way and method practised by the TVR® OPT artisans today.
However, it is inevitable for this generational craft to face its own adversities. Many of our master craftsmen are octogenarians, and it is hard to have them replaced. These artisans have spent their entire life perfecting this craft, using knowledge and 'sixth sense' in creative every detail you see on the eyepiece. This is very different from mass-produced eyeglasses. And if it's not being preserved, it may even disappear after my generation.
Sawada Yaemon: If I may add, it is very tough to get the younger generation into making handmade eyeglasses simply due to the long hours of sitting in the factory doing the same work everyday. You need to have a very zen and calm mentality — it's imperative. On top of that, most of the young people find better opportunities outside of Sabae city; they move out and go on different routes.
The truth is, there are many families of traditional craftsmen who wish their business will continue or be passed down to the future generations. But due to its demanding nature, many family businesses have been forced to shut down as there are simply any takers who are willing to continue the legacy.
As a fellow craftsman myself, I am lucky because my son enjoys this job and he has been trained since he was a child. Eventually, he developed really good polishing skills and has been a meticulous person who finds joy in every detail. I hope he will continue what my forefathers have started and take it to the next level.
4. What elements of the work you do are different from say 20 years ago?
Sawada Yaemon: We are still using the same technique and old machines from five or six decades ago — the same ones I used since I started too. We still prefer to keep the same legacy from my grandparents and parents. There are not many factories in Sabae who still have and use old machinery like we do but of course this has decreased significantly in the last 10 to 20 years. Many craftsmen have already retired.
Every year, we face a lot of challenges in the industry and it gets harder for us to sustain the legacy of our craftsmanship. So the constant need to innovate is another component that is different as compared to 20 years ago. That's the only way to keep up to today's market demands and standards.
For example, our most recent launch comes with the Dragon Metal core details. I believe we are the first brand to create such an intricate detailing in the core. It all started when we came across the pattern details but you'd hardly find the Tebori technique in its making. This has taken us 12 months to produce, including research and concepts to the final execution.
Eizo Onami: At TVR® OPT, we want to continue the legacies of master craftsmen in Sabae. We would speak to them, and find inspiration through the work that they do. Most of the master craftsmen are more than happy to share their knowledge and wisdom in eyewear making. Together with that, we are also able to get insights into original templates and blueprints, including authentic molds that will help us to truly revive vintage eyewear.
TVR® OPT is not just a business or a brand. We are a community. Over the years, TVR® OPT has started to create job opportunities for craftsmen living in Fukui to keep the Japanese craftsmanship alive for as long as we can. Additionally, in ensuring that the eyepieces meet the authentic standards of handmade craftsmanship, you need someone who understands the original construction method from the 1950s and 1960s. That's something we do not compromise on.
5. What are your most important eyewear characteristics in Japan, and why are they held in such high esteem?
Eizo Onami: One of the main characteristics of Japanese craftsmanship is the kind of detailing that the craftsmen put into every creation. There is a tendency to pay extra attention towards the minutest of details. The spirit of Japanese artisanal craft involves spending time and effort to get the final product precisely right. The economics of the product are not so important as for these folks; the aim is to produce something faithful to the fundamentals of the craft and its authentic designs.
6. Finally – outside spectacle making – what other special crafts do you admire, and if they are particular Japanese ones, could you kindly explain what unique qualities they possess….and why the craft you mention is so highly skilled.
Sawada Yaemon: As part of my family history, we have a lineage of skilled thatched roof craftsmen belonging to the esteemed Yaemon family. For centuries, our ancestors meticulously crafted roofs using traditional techniques, gracing Japanese homes with the beauty of thatched roofs. However, as Japan's architectural landscape evolved, my great grandfather realized that we need to adapt and diversify our expertise. Approximately 80 years ago, with the decline in thatching materials, we took a bold step forward and embraced a new venture. Our family transitioned to become skilled artisans in the art of handmade eyeglasses, combining traditional craftsmanship with modern touch.
For many generations, my family members have been trained in eyeglass making. We have been carrying this special craft since my great grandfather's time. Japanese are very good at crafts and we are precise. Eyewear is something that started some 100 years ago and the challenge is how we can make every eyeglass interesting? What are the next steps to make something simple and luxurious?
That's how we incorporate the Japanese 'Tebori' technique into our eyeglasses — that's the kind of attention to detail that we observe and practise for years. We also introduce gold plating on our metal core and rivets — very subtle. In other words, it is a 'quiet elevation'.
Eizo Onami: TVR® OPT is also the first brand that is using this technique. The 'Tebori' technique was developed during the Edo period when Japanese arts and crafts truly flourished with its own codes of aesthetics. This engraving technique was employed in various objects including swords, hairpins, combs and many more. In order to perfect this engraving technique, 'Tebori' craftsmen have to first master the art of making a 'tagane' or a cold chisel that acts as a stencil-like tool for the patterns on the metal. Today, there is only one 'Tebori' craftsman in the optical field in Fukui, Japan and a few more in Tokyo focusing on pure gold products including jewelry, watch-making, ring and other gold trinkets featuring the unique hand-carving design; all marketed at very high values.
And that's why elements like these are highly valued and prized — because they are very rare and almost inaccessible. When you wear TVR® OPT eyeglasses, you're wearing a piece of history and heritage. You are wearing decades of craft, perfected. www.tvropt.com / www.tvropt.eu
Thanks to Eyestilist magazine for this great interview and to tvropt.com for the translation.